Natural Lawn Fertilization
Bio Green Natural Lawn Fertilization
At Bio Green Indiana, we will provide communities with a professional lawn fertilization service that uses Bio Green biologically sound and environmentally safe fertilizer products which will generate amazing results in look and growth and focus on the betterment of the environment one lawn at a time. In the past, residential and commercial property owners have had to choose between competing synthetic chemical fertilizer brands when choosing a professional lawn and landscape fertilization service. Bio Green has changed the landscape of this industry.
With Bio Green, there is a nationally branded, effective and environmentally friendly fertilizer that is available to the public through professional lawn and landscape fertilization service providers. Bio Green replaces the leading fertilization services with a competitively priced and professionally applied product that is safe for the environment, children and pets.
Bio Green's patent-pending lawn formula is made with a carefully chosen mix of liquid fertilizer, plant nutrients with soil amendments that are blended specifically for the nutritional needs of plants.
This technology will bring your soil back to its natural state, balancing the pH and nutrients, while promoting a stronger root system and healthier top growth; the essentials for a rich, vibrant and healthy lawn. The use of our formula from year to year will encourage your root system to grow stronger and denser thus preventing weeds from emerging while making the lawn more drought resistant. A healthy plant, just like a healthy body, has a stronger immune system making it naturally resistant to diseases, insects and other pests.
Once a plant uses up the food it has stored in its system, it will draw nutrition from the soil. Since our product will feed and balance the soil, your lawn, landscape and gardens will receive the essential nutrients needed for maximum growth and blooming potential. Call our office of service professionals and get started on the road to a beautiful and healthy lawn.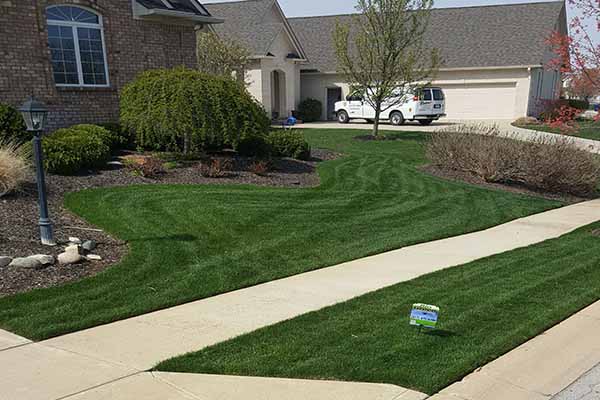 Lawn Care Services
Tree and Shrub Services
Pest Control
Service Areas
Proudly providing lawn care service to the following areas:
Zionsville, IN
Whitestown, IN
Noblesville, IN
Sheridan, IN
Williams Creek, IN
Meridian - Kessler Neighborhood